The proposed redevelopment of the Javits site into a new urban neighborhood offers an opportunity to place New York City at the forefront of sustainable urban design, with a dense, mixed-use, pedestrian friendly neighborhood, which would also integrate solar energy efficiently and effectively.

The current "towers in the park" project for the Hudson Yards is not the ideal model. And neither is Battery Park City which lacks in diversity and is deserted by pedestrians, with its purely residential areas separated by a group of office towers.
Let's have:
- a dense grid of vibrant streets, typical of NYC, instead of car oriented super blocks
- a real city park instead of left over "green space" between towers
- passive solar design at an urban scale instead of some token photovoltaic panels affixed on a Platinum LEED certified building as we saw in Battery Park City: they were not facing the sun and the architect explained that they were there merely as a "statement", not really to harvest the sun.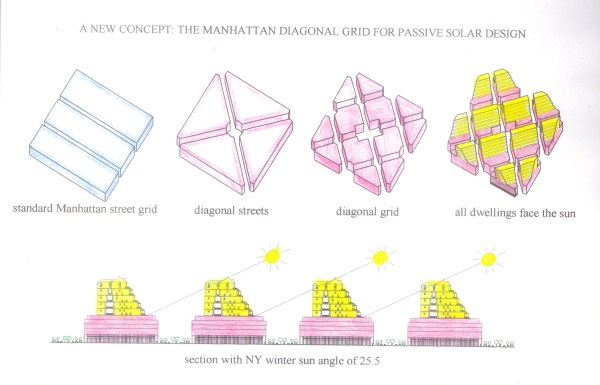 Passive solar's efficiency is 100%, whereas"Active solar" photovoltaic panels' efficiency is of 15 to 16% of the energy received from the sun.
With the present major challenges to energy management (climate change + danger inherent to nuclear plants + instability in the oil producing middle-east + the Gulf oil spill, etc..etc....) it is essential to develop sustainable neighborhoods which will be:
- specifically designed so as to integrate efficient passive solar concepts, for affordability in the long run (housing will not remain affordable if it does not integrate free solar energy), and to protect the environment,
- and truly walkable, pedestrian friendly, urban diversity and vibrant streets, for economic and cultural development and for social integration.
New Sustainable Urban Forms are needed.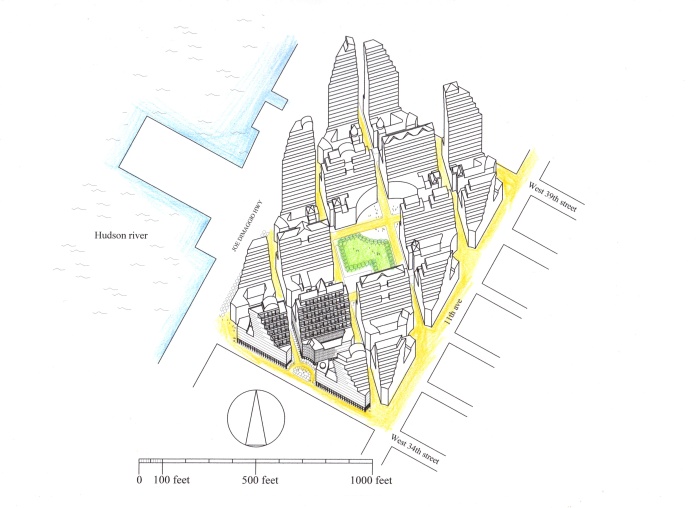 We therefore have worked on this preliminary sketch of a sustainable urban form scheme for the Javits area.
It comprises a dense grid of vibrant streets, a central urban park, two wide piazzas, a variety of urban functions on ground floor, like businesses, shops, services, leisures, theaters, etc…