The current massive rate of worldwide urban development offers an opportunity to intrinsically adapt the urban form to meet the challenges we are all now facing. It therefore becomes a matter of determining the truly appropriate sustainable urban forms and offering to the world another model than the 20th century urban sprawl and functionally segregated zoning, which countries like China or India seem at present too eagerly willing to duplicate, as an avenue to misconceived "modernity" that is a dead end. China goes as far as prohibiting the use of bicycles, in certain areas, as too "old fashioned"!!!
Now is the time to experiment in the United States with new paradigms of dense urban forms where pedestrian scaled mixed-use neighborhoods will make extensive use of clean and renewable solar energy.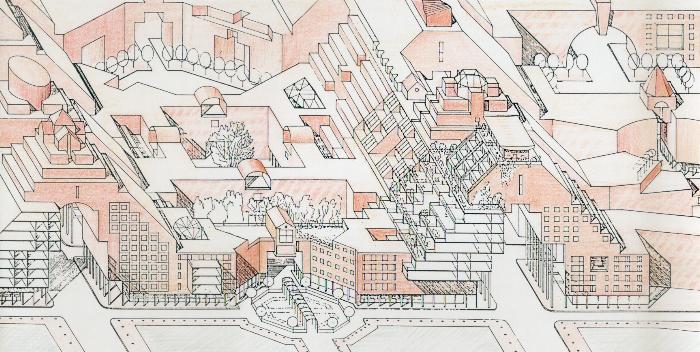 Passive-solar design in a dense mixed-use neighborhood (sketch by JL Msika)




In an effort to address the unsustainable nature of typical development, the Sustainable City Project provides alternatives that demonstrate fundamental improvements to existing proposals in working towards a more sustainable New York.
We are setting up a multi disciplinary Sustainable City Task Force open to motivated experts, citizens, stakeholders, students, etc., to be equipped with the necessary resources to establish detailed, sustainable urban form alternatives for some of the major urban developed projects in the New York area. A community-based process will be utilized.